Hummer Hire in Adelaide – A Classier Alternative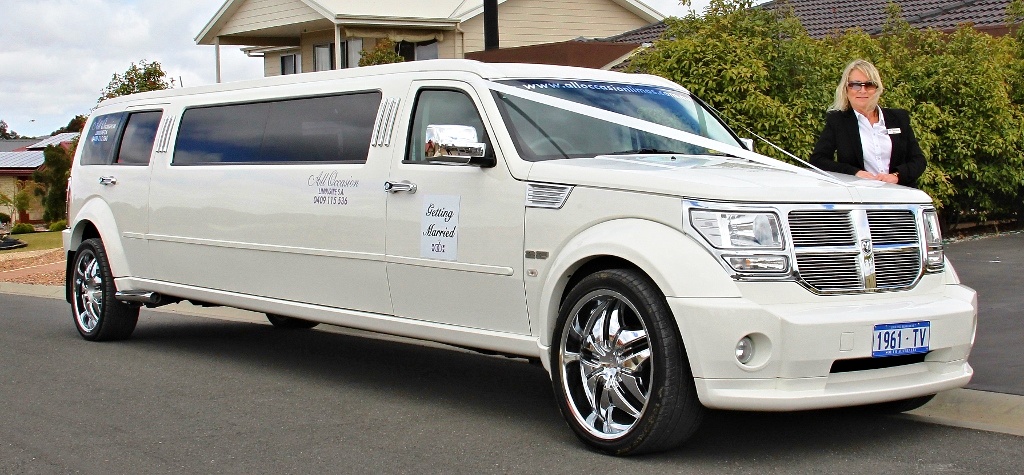 Hummer Hire in Adelaide – A Classier Alternative
Hiring a Hummer? – be really really noticed with Adelaide's only Dodge Nitro stretched limousines.
More luxurious than the Hummers hired in Adelaide and more exclusive, a ride in a Dodge Nitro blasts you into a higher plane.
Elaborate Interior, vertical lifting gull wing door (on the 12 passenger limo), smoother ride all feature in this hummer hire alternative.
Silver Dodge Nitro stretched Limo – 12 Passenger Luxury
Party in the silver Dodge Nitro stretch limo with all 12 passengers with space to spare and dripping luxury.
With bling like this you and your friends will make a huge impression and your night out will be one to remember. Luxurious and spacious, making the drive to your big event one to remember. Sensational light show from the floor.
You control the beats with the 200 watt sound system.
The party will be underway with the twinkle stars, lasers and strobes.
On arrival you will step out of the wing door and make a grand arrival entrance.
Limo Interior luxury
Pristine Dodge Nitro Stretch Limousine – 10 Passenger
Travel in style in the white Dodge Nitro stretched limousine.
Inside this classy vehicle, 10 passengers will enjoy the drive under beautiful light up ceiling.
The light up floor has an option of various light patterns, to suit your mood.
Your selection of sounds from the 200 watt sound system.
Make the perfect entrance!
So, rather than searching for a Hummer in Adelaide, go with the classy option of Adelaide's only Nitro Dodge Limousines.