Terms & Conditions
TAILOR MADE LIMO HIRE PACKAGES
Terms & Conditions
We understand and agree with the following terms and conditions as set out by All Occasion Limousines S.A.
Any deposit is an acceptance of these terms and conditions.
The booking customer is responsible to ensure all passengers are aware of the conditions, and is also responsible for any damage to the exterior, the interior and the contents of the vehicle.
All deposits are due within 24 hours of the booking, either via E.F.T, Visa, Mastercard or American Express, to secure the vehicles, unless prior arrangements have been made
All deposits are non-refundable. We agree that the cancellation of a booking will result in the forfeiture of the security deposit. The security deposit is the deposit part of the total booking fee.
If a booking date needs to be changed, a fee of 20% of the total booking amount will apply.
(The security deposit will not exceed 40 %.)
We agree to pay the balance due, as per the booking confirmation, by either E.F.T, Visa,Mastercard or American Express. Full payment is required before departure.
We agree to adhere to our start and finish times and accept that any overtime will be charged for.
We agree to be at our designated pickup point at the arranged time. If not, we accept that the vehicle may not wait for us, and we may be left behind. No refund will be given. Refunds will not be given upon early completion of the pre-booked times.
All Occasion Limousines S.A. will not accept any responsibility for the lateness caused by any
customer.
All one hour bookings will allow 1 additional pickup point, that are in close proximity to the other. Each extra pickup not advertised when booking will attract a additional fee of $20.00 plus any overtime that may be applicable. Be sure to allow enough times for "happy snaps".
Any photographs taken by a representative of All Occasion Limousines SA, can be used for promotional use by All Occasion Limousines SA.
All Occasion Limousines S.A. reserve the right to substitute any vehicle with another vehicle, or refund (in full) any amount paid, if we are unable to provide a vehicle due to an emergency, or conditions outside of our control.
Breakages of any glasses will be charged for at a cost of $10.00 each.
Drivers are under strict instruction to stop and not proceed if they believe any person is not in a fit state to travel, (inclusive of unruly behaviour and any mess made). Cost to sanitise the interior of the vehicle starts at $300.00 and increases depending in the extent of the problem. Also the cost of any work that the vehicle is unable to attend will be charged for. The cost will be charged to the booking customer and will be paid for by cash or a credit card at the time.
Complimentary drinks (sparkling white wine, beer, soft drink and water) can be consumed in the vehicle. No spirits can be brought into the vehicle. Pre-mixes may be allowed with prior consultation.
Alcohol cannot be consumed by persons under the age of 18.
Where the vehicle is booked for a school formal, there will be no alcohol provided, and none may be brought in, even if the booking customer is of legal age to consume alcohol. If alcohol is sneaked into the vehicle, the booking will be terminated with no refund,
Seat belts are to be worn at all times.
No smoking is allowed in the vehicle.
Children travelling in the limousine, see
Seatbelts and Child Restraints – My Licence
CUSTOMERS PLEASE NOTE:
DUE TO THE PHYSICAL SIZE OF THE VEHICLE, THERE MAY BE TIMES WHEN IT IS NOT POSSIBLE TO GAIN ACCESS TO EVERY DRIEWAY, ROAD OR VENUE. YOUR CHAUFFEUR WILL ENDEVOUR TO ACCESS ALL VENUES, AS LONG AS HE CAN DO SO IN SAFETY, SAFETY FOR BOTH THE PASSENGERS AND THE VEHICLE. IF HE FEELS THERE MAY BE A RISK, HE HAS THE RIGHT TO COLLECT, OR DROP OFF AT THE NEAREST SAFE LOCATION.
Privacy Policy
This is the privacy policy of www.alloccasionlimos.com.au and will be referred to as "We", "our" and "us" in this Internet Privacy Policy. By using this site, you agree to the Internet Privacy Policy of this web site ("www.alloccasionlimos.com.au"), which is set out on this web site page.
We reserve the right, at our discretion, to modify or remove portions of this Internet Privacy Policy at any time. This Internet Privacy Policy is in addition to any other terms and conditions applicable to the web site. We do not make any representations about third party web sites that may be linked to the web site.
We recognise the importance of protecting the privacy of information collected about visitors to our web site, in particular information that is capable of identifying an individual ("personal information"). This Internet Privacy Policy governs the manner in which your personal information, obtained through the web site, will be dealt with.
This Internet Privacy Policy should be reviewed periodically so that you are updated on any changes. We welcome your comments and feedback.
Affiliate Disclosure
This blog uses various affiliate programs and advertising for monetization, which means when you click on links to some sites that I recommend in my posts and make a purchase, this can result in a commission that is credited to this site.
Personal Information
Personal information about visitors to our site is collected or stored only when knowingly and voluntarily submitted. For example, we may need to collect such information to provide you with further services or to answer or forward any requests or enquiries. It is our intention that this policy will protect your personal information from being dealt with in any way that is inconsistent with applicable privacy laws.
Use of Information
Personal information that visitors submit to our site is used only for the purpose for which it is submitted or for such other secondary purposes that are related to the primary purpose, unless we disclose other uses in this Internet Privacy Policy or at the time of collection. Copies of correspondence sent from the web site, that may contain personal information, are stored as archives for record-keeping and back-up purposes only. Information such as email addresses or any other personal information is never sold, traded or given away.
Advertising
We use third-party advertising companies to serve ads when you visit our website. These companies may use information (not including your name, address, email address, or telephone number) about your visits to this and other websites in order to provide advertisements about goods and services of interest to you. Google's use of the DART cookie enables it to serve ads based on users' visit to our sites and other sites on the Internet. Users may opt out of the use of the DART cookie by visiting the Google ad and content network privacy policy at http://www.google.com/privacy_ads.html
Links to other sites
We provide links to Web sites outside of our web sites, as well as to third party Web sites. The content of these linked sites are not under our control, and we cannot accept responsibility for the conduct of companies linked from our website.
Problems or questions
If we become aware of any ongoing concerns or problems with our web sites, we will take these issues seriously and work to address these concerns. If you have any further queries relating to our Privacy Policy, or you have a problem or complaint, please contact us.
MORE INFO
Tailor Made Limo Packages
HAPPY CUSTOMERS
"Just wanted to say Thank you for the lovely job you did on our wedding day. We had the best day! Thanks for helping be apart of it. Happy New Year & all the best for you future."
Maria & Troy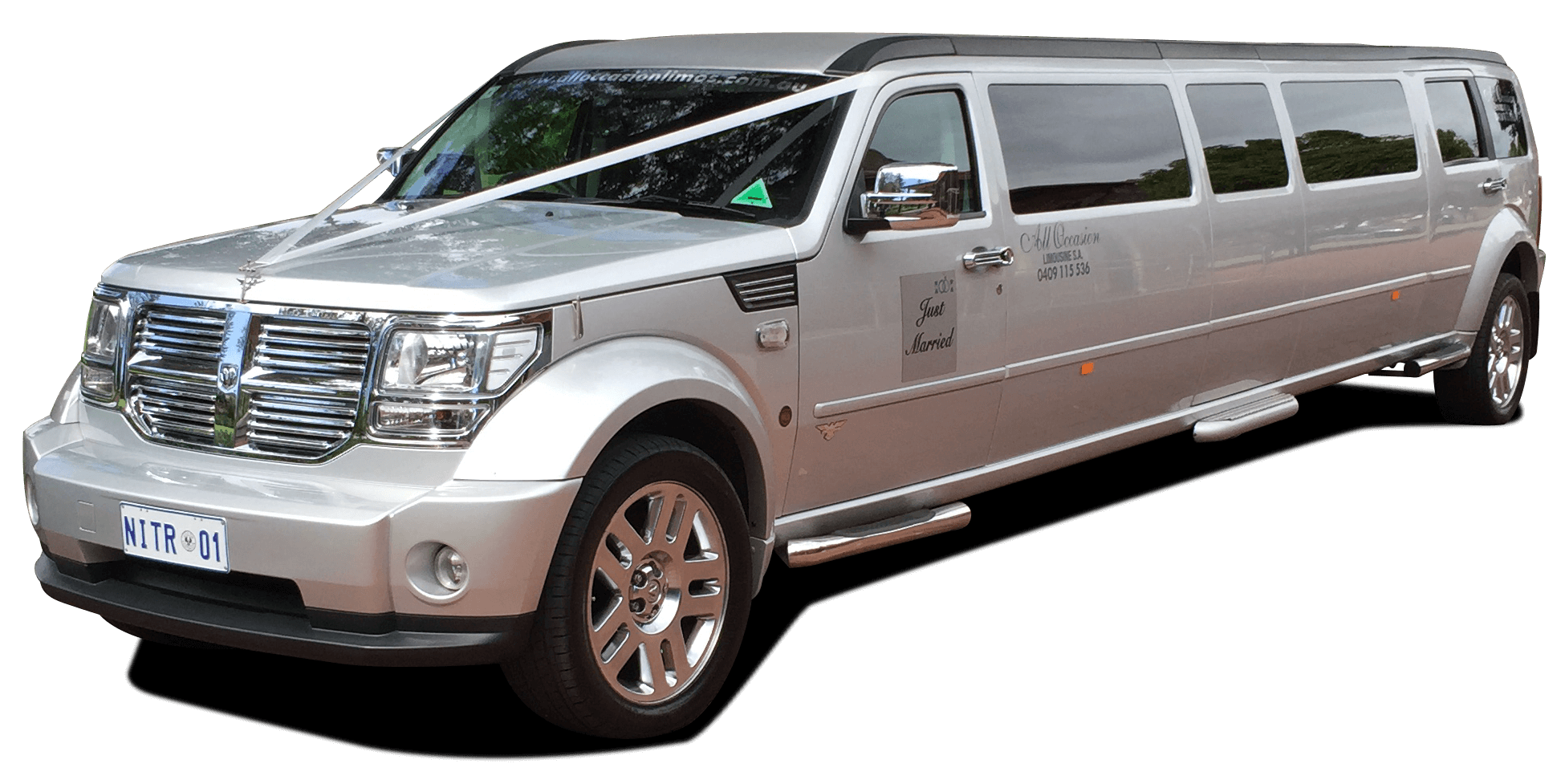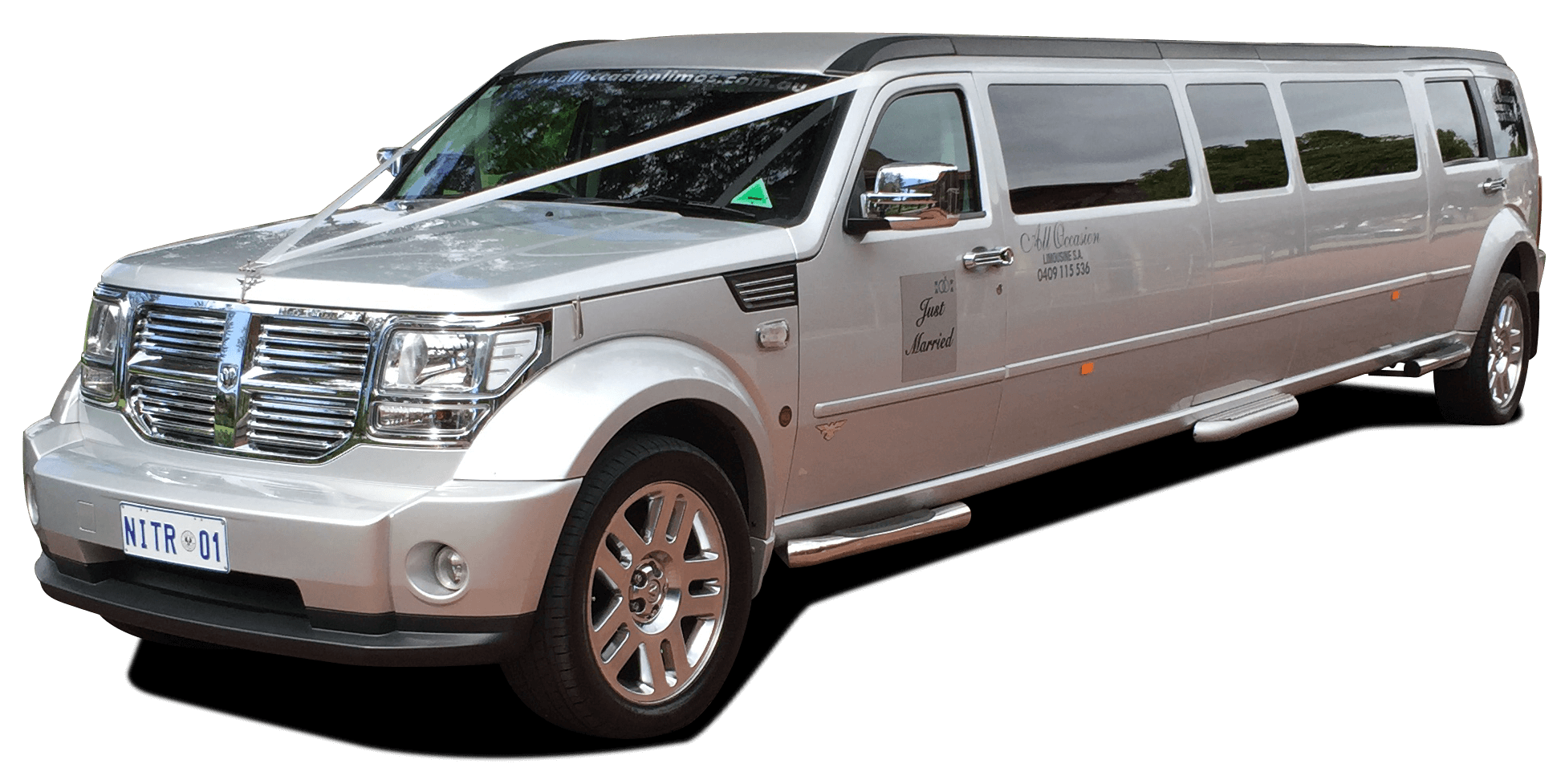 DODGE NITRO LIMO HIRE ADELAIDE
Hummer Hire in Adelaide – A Classier Alternative
Hiring a Hummer? – be really really noticed with Adelaide's only Dodge Nitro stretched limousines.
More luxurious than the Hummers hired in Adelaide and more exclusive, a ride in a Dodge Nitro blasts you into a higher plane.
Elaborate Interior, vertical lifting gull wing door (on the 12 passenger limo), smoother ride all feature in this hummer hire alternative.