TESTIMONIALS
TAILOR MADE LIMO HIRE PACKAGES
TESTIMONIALS
What our clients have to say.
"Although we could not be there for the booking last Friday evening due to a horrendous day of cancelled flights all over the network & particularly in Sydney 😊
Anita & I would like to extend a special 'thank you' for the courtesy extended to my Mother on picking her up at Glenelg East plus the other guys also spoke highly about the friendly service extended to everyone."
"Thanks for your wonderful service last night…the girls had a ball! I'm still disappointed that they didn't let me go with them :)"
"A huge thank you for our Limousine Service last night. The pickups were spot on the times given to us, the service and explanations from Paul were excellent, the drinks were cold and overall could not fault a thing.
We all had an excellent night celebrating my 60th Birthday and your service had a great deal to do with that."
"Absolutely amazing! We hired the white stretch nitro for our wedding it was so nice!! Better than I thought it would be. Sue was so lovely and made our drive to the venue smooth and comfortable. Thank you so much for making my wedding day memorable."
"Just wanted to thank you for making my daughters night so special."
"Thank you very much for driving us to Pindarie Winery on Sunday. The whole family had a great time in your Limo and we appreciated the full ice buckets and your very friendly and courteous service. We had a day out to remember, celebrating our 40th anniversary in a relaxed way since no one had to worry about having a drop too many and then driving!
The grandkids were very excited about your very long car! One has already done a power point presentation at school on our outing! We appreciate the ease in organizing our day with you and will not hesitate to call on your services again and will definitely recommend your company to others."
"Just wanted to say thank you for the amazing service you gave us last night on our return trip to Windy Point. We would thoroughly recommend your service to anyone."
"Just wanted to thank you and Sue for looking after the St Aloysius College year 12 girls from Warradale on Friday evening. They all thoroughly enjoyed their trip to the city and Sue is an absolute delight – as you well know!"
"Thank you very much for your Limousine services on Saturday night. We had a wonderful night."
"I just wanted to say a massive thank you! Mum and Dad enjoyed themselves thoroughly. They haven't stopped talking about the lovely car and being driven around. And a big thank you to the driver for waiting so long for us to finish dinner. I sent a message to the number he gave me, but he never received it, but when he turned up to the restaurant, I went and explained and he happily waited until we had dessert etc. It was very nice of him to be so patient. Thank you for helping make Mum's 60th so memorable. We will definitely be using you again."
"I just wanted to say a big "thank you" for your service last night. The kids had a great time, and Allan was very patient, by the sounds of what Shane told me! Now my husband wants to go in your limo too, it was so great. I will be recommending your service to anyone interested."
"Hi Allan, thanks for a great drive mate. You drove the Summit brilliantly 🙂
Everyone enjoyed the day.
Recommend without question.
Cheers"
"Just wanted to say Thank you for the lovely job you did on our wedding day. We had the best day! Thanks for helping be apart of it. Happy New Year & all the best for you future."
"Hey Allan,
Just wanted to say once again thank you for everything, the limo and Chrysler were great
Thanks again"
"Thanks so much for the great ride on Tuesday. It certainly was a surprise for One person! We had a great day and the ride made it even better."
"On behalf of Kevin and I we would like to say a big Thankyou for your services on the weekend (22/2/14). We had a great day and wouldn't have been able to have that with out you :)"
"Both Chris and I wanted to send you an email explaining how we felt on our wedding day. Out of all the people that helped make our day one to never forget, you were one of the best. We knew we had found a great car service when we first met you back in March I think last year. Your service was the first item we booked and we are so glad we booked with you to be our car driver on our wedding day. Neither of us had any stress as it was well-organised thanks to you. You came early to my parents address which for us was great as we were ready to leave when you arrived. Not only Chris and I, but our entire wedding party along with my parents were very impressed with your service on our special day. You took the stress away and we sincerely thank you for that. I have looked into a couple of places where we can leave our thoughts and suggest you as a great driver with the best manner and your patience. I know waiting around for my mother on the day wasn't planned and we really do appreciate you going above and beyond what the expectations and planned arrangements were by driving to pick her up from a faraway car park to speed our ceremony up as we were running a little behind schedule. As you own your own business, I don't have a manager or director that I can pass this onto, but will pass your details along with our positive comments on to the appropriate people. We know so many couples getting married in the next 2 years and we always recommend you and your car services as we were so pleased and very happy with you and couldn't have asked for any better. We have attached some photo's from our wedding which you might wish to use on your website, or for gaining new business or perhaps just as a keepsake. Thank you again, Alan, we are so very happy that you helped make our day one to never forget."
"Thank you so much for making our day so special .. Best decision I made for our wedding day was to have you as out ride… Ps I felt like a princess on my arrival and a rock start at the end"
"Just wanted to say Thank you for the lovely job you did on our wedding day. We had the best day! Thanks for helping be apart of it. Happy New Year & all the best for you future."
"Just a quick email to say thank you very much for the service you gave us on the wedding day with the stretched dodge and the Chrysler pick up in the evening. You were nothing less than professional. The ride in was amazing all the girls and my dad have made comments on how good the service was, the kids all enjoyed it and thought they were little rock starts. it was defiantly a fun chilled out experience on the way in to waterfall gully (I almost didn't want to get out we were having that much fun) I have attached a few photos for you, I thought you might be interested to see them. thanks again for all that you did it was absolutely fantastic!"
MORE INFO
Tailor Made Limo Packages
HAPPY CUSTOMERS
"Just wanted to say Thank you for the lovely job you did on our wedding day. We had the best day! Thanks for helping be apart of it. Happy New Year & all the best for you future."
Maria & Troy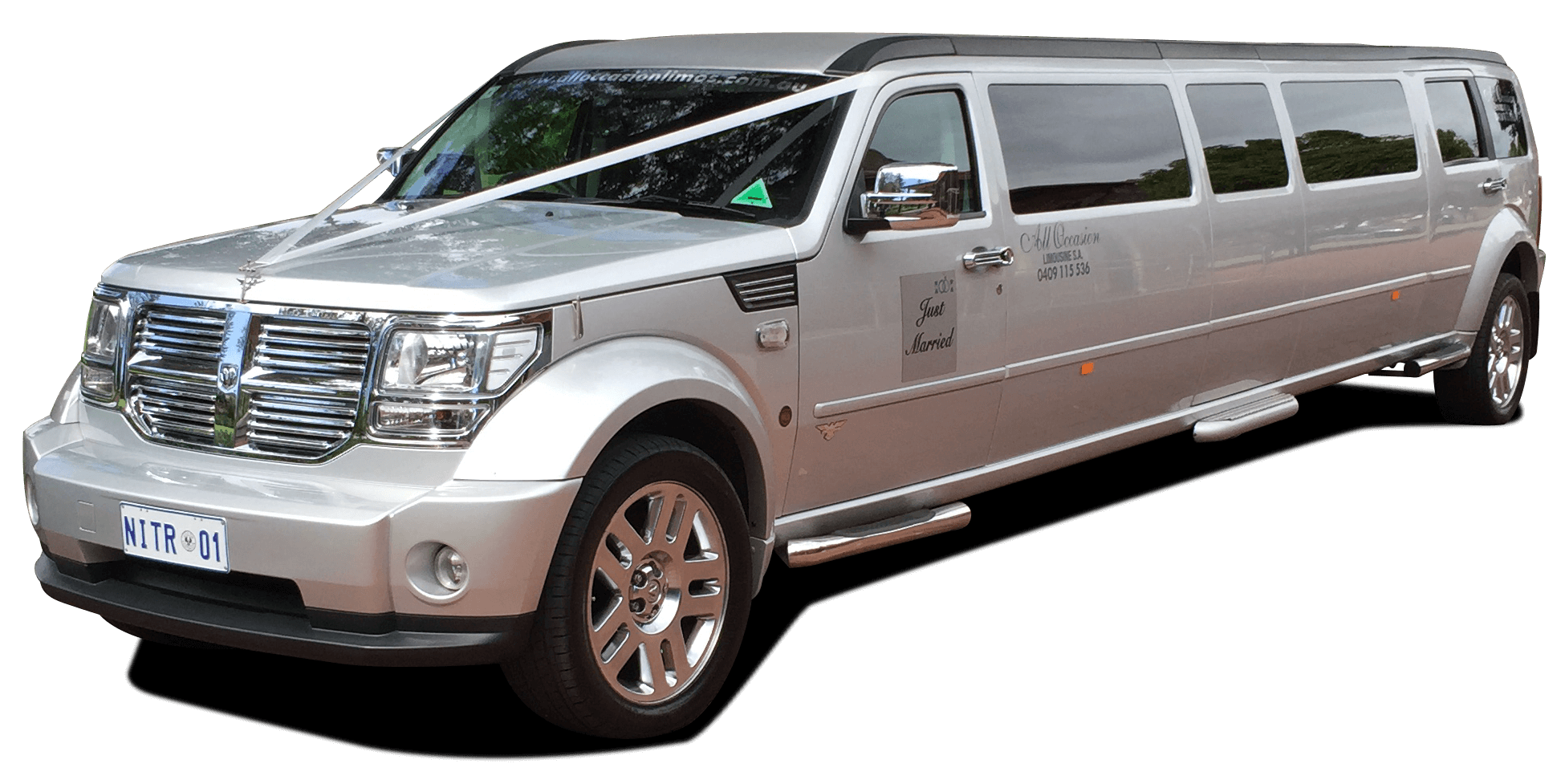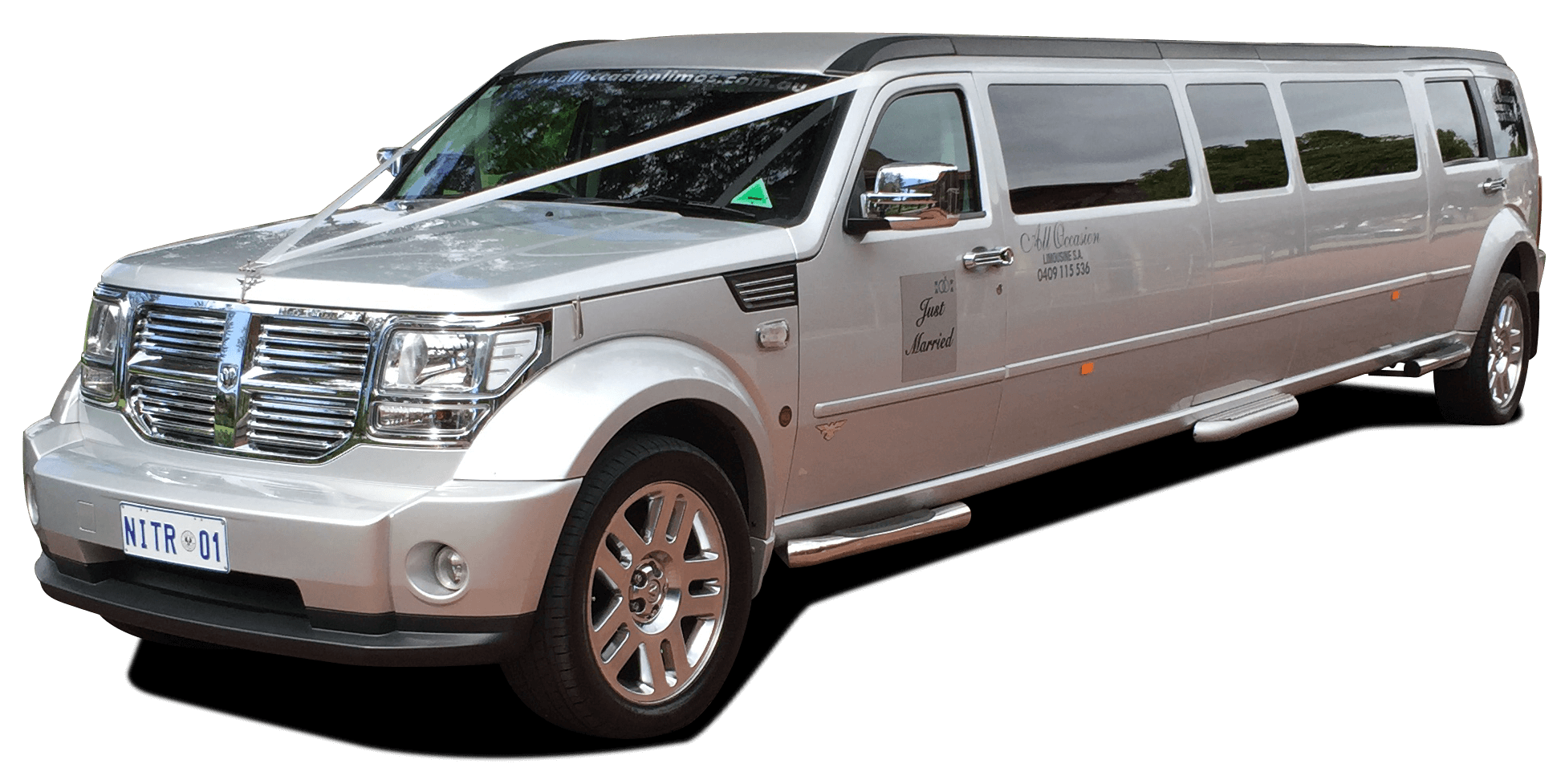 DODGE NITRO LIMO HIRE ADELAIDE
Hummer Hire in Adelaide – A Classier Alternative
Hiring a Hummer? – be really really noticed with Adelaide's only Dodge Nitro stretched limousines.
More luxurious than the Hummers hired in Adelaide and more exclusive, a ride in a Dodge Nitro blasts you into a higher plane.
Elaborate Interior, vertical lifting gull wing door (on the 12 passenger limo), smoother ride all feature in this hummer hire alternative.