FORMAL CAR HIRE ADELAIDE FOR SPECIAL OCCASIONS
Formal Car Hire Adelaide For Special Occasions
We offer for hire the elegant Dodge Nitro Limousine, the ideal formal car for special occasions in Adelaide which need a little less bling and a more sophistication.
This is a swish luxury limousine with beautifully upholstered leather seating and interior finishes. The exterior will make a bold statement which will impress.
Select the Chrysler Limousine for:
School formals and other special events, Dinner Parties, Business Events, Weddings, Receptions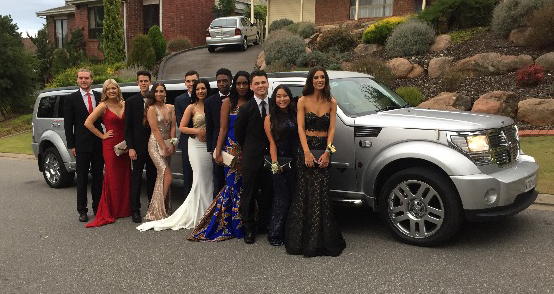 Limousine Hire for Special Occasions
For your next special occasion, why not indulge in Formal Car Hire for you and your guests. Hiring a limo adds that special touch to your event. We offer Limousine Hire in Adelaide for the following events:
Airport transfers
Anniversaries
Birthdays
Hen's nights
Kids parties and teen parties
School formals
Socials and other Special Social Events
Weddings and receptions
Wine tours
Stylish and classy the Dodge Nitro Limo is an excellent choice for a formal or business event
Spacious with room to stretch your legs, seating for four people and room for luggage.
Features are:
5.1 stereo and video
Strobe and laser lighting
Luxury leather interior
Seating for 12
The Dodge Nitro Limo is available Now. Call: 0409 115 536